I'm Jerry. I have a decade (on and off) behind the mic and I love rock music in all its awesome forms.
Rockabilly to British Invasion, 70's Arena Rock to Hair Metal, Punk to Grunge, it's ALL rock n' roll to me!
I'm a child of the '80's and love spending time with my wife Natalie, our daughter Alice, our dog Nanook, and our two cats Hannibal and Heidi.
Favorite Bands? Mötley Crüe, The Beatles, Guns N' Roses
Favorite Movies? A Nightmare on Elm Street (1984), John Carpenter's Halloween (1978), One Flew Over the Cuckoo's Nest (1975)
Favorite TV Shows? Breaking Bad, Better Call Saul, Tales from the Darkside
Favorite Sports Team? L.A. Lakers
Favorite Food? Anything Italian
Favorite Authors? Stephen King and Hunter S. Thompson
Radio Influences? Dr. Don Bevins, Howard Stern, Eddie Trunk.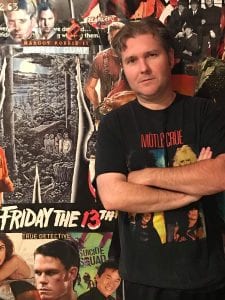 Mon-Fri | 10a-3p